Key Questions To Ask Your Wedding Band
10 Key Questions to Ask Your Wedding Band
An energetic and great sounding band is a key part of any wedding. However, there's so much more to booking your perfect wedding band than simply listening to them play a few tracks.
Before you choose your wedding band you need to also consider all of the logistics! So to help you make the right choice here are the top 10 questions you should ask every wedding band before you book them.
1 - Do you come with all your own equipment?
Not all bands are equal, so you shouldn't assume that a band will come with all the equipment they need for their performance. Ask them if they have a rider, and/or if they will need anything from a production company in order to play on the day.
2 - Do you have PLI?
PLI is Public Liability Insurance. This is insurance that safeguards the performers themselves, you and your guests, and your venue. Do not book a band that doesn't have PLI. If the worst should happen, it will result in you footing the bill. Plus, most venues will require the band to have this before being permitted onsite. If they don't have PLI they could be turned away, leaving you without entertainment on your big day.
3 - Is your equipment PAT tested?
PAT is Portable Appliance Tested. This is a yearly check that should be done on all of the band's equipment to ensure that it is electrically safe to use and operate. It will cover everything from speakers and light, to laptop chargers and iPod power supplies. Again, your venue will require them to have this before they are allowed to perform so it is important that your band can show proof of PAT testing.
4 - Will you play for our first dance?
Most bands (like AKA) will be happy to perform your first dance song, and will have included this in your quote. However, you should always check this is included in the price, so you're not hit with a surprise charge. It is also important to make sure you know when you need to let them know what you would like to dance to. This is usually 30 days before your wedding, but can be sooner.
5 - Are there any costs not included in the quote that we will be expected to cover?
AKA have no other costs that clients need to cover apart from a hot meal for each of the musicians. This is standard practice for many suppliers, such as photographers, and is something that your caterer will be familiar with. All you have to do is let them know ahead of time. However, some bands may have hidden costs for additional extras, so to avoid a surprise bill be upfront and ask before you book them. This is especially important if you are planning a destination wedding, as there may be a number of extra costs, from travel and hotels to visa applications.
6 - Will the musicians on the day be the ones we have seen?
No matter how well you plan, life may get in the way and band members may be unable to play on your wedding date. In the case of this happening, it's good to know if your band has other musicians they can contact to fill the place of any unavailable members. It is also equally important that you confirm that the musicians you have watched in any promo videos are the ones that will be there on your day.
7 - Do the band/musicians have onward travel cover?
This might seem like a silly one, but ask your band if they have onward travel cover as part of their breakdown cover. AKA has this for all band members, to ensure that if something happens on the way to the venue (such as a flat tire), our players will still be able to get to you on time, and perform.
8 - Is there a maximum distance that the band are willing to travel?
Most party bands in the UK will travel nationwide, however it is always worth double checking this is the case before you pay the deposit.
9 - How long will the band need on the day for set up and sound check?
Bands are complicated and big things to set up. The exact length of time they will need will depend on the size of the band you have booked. Check with the band leader about the band's arrival time and set-up plan, and make sure you inform your venue and wedding planner. Knowing this information is a key piece of the puzzle to ensure your day runs as smoothly as possible.
10 - Will you provide a playlist for between the live sets?
Your band will not perform every minute of your evening reception, so you need to make sure you have a plan for in between sets. If they do not provide a playlist, you need to find the time to put one together. If they do provide one, make sure you see it before the day. The case may be that you actually want to create one that is more suited to your tastes, and play that instead.
Remember, your wedding day is your wedding day. The most important thing is finding a wedding band that not only fit perfectly with the vibe of your day, but who are also happy to accommodate you to ensure your day is everything you hope it will be. If you have a question, don't be afraid to ask them!

CHECK OUT THIS VIDEO . . .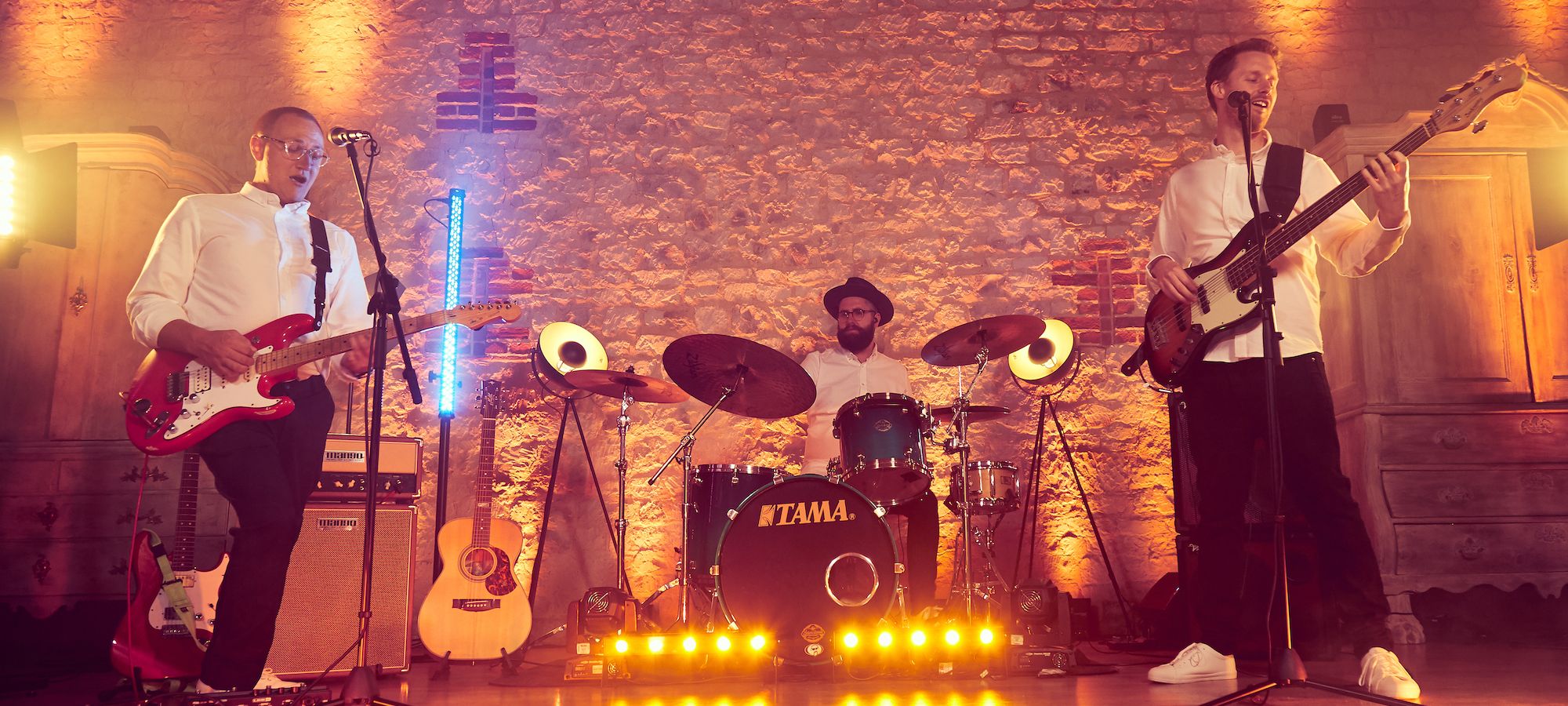 The soundtrack to
your big day