We love a marquee wedding
Wedding venues come in all shapes and sizes, traditional and modern, and almost always fit the look and vibe you are wanting for your wedding day. But what if you want a truly blank canvas where you can stamp your own mark and really show off your personality? This is where the marquee comes into its own and allows you to explore every possibility of design, configuration, and look for your wedding reception.
A wedding marquee typically comes in 2 designs.
The frame tent. This is the classical style marquee with a pitched top and sides that can be opened up for summer weddings and fastened down if the weather is less favourable. These are highly adaptable and truly are a blank canvas to work with.
The Pole Tent or Spurry Tent. This is the style that lends itself to that shabby-chic, boho, country-style wedding with wooden poles and beaming as well as an off-white canvas exterior.
Combine beautiful flower arrangements, candlelit colours of amber lighting and hanging chandeliers over the tables, beautiful backdrops and you have a stunning wedding venue that has been built especially for you.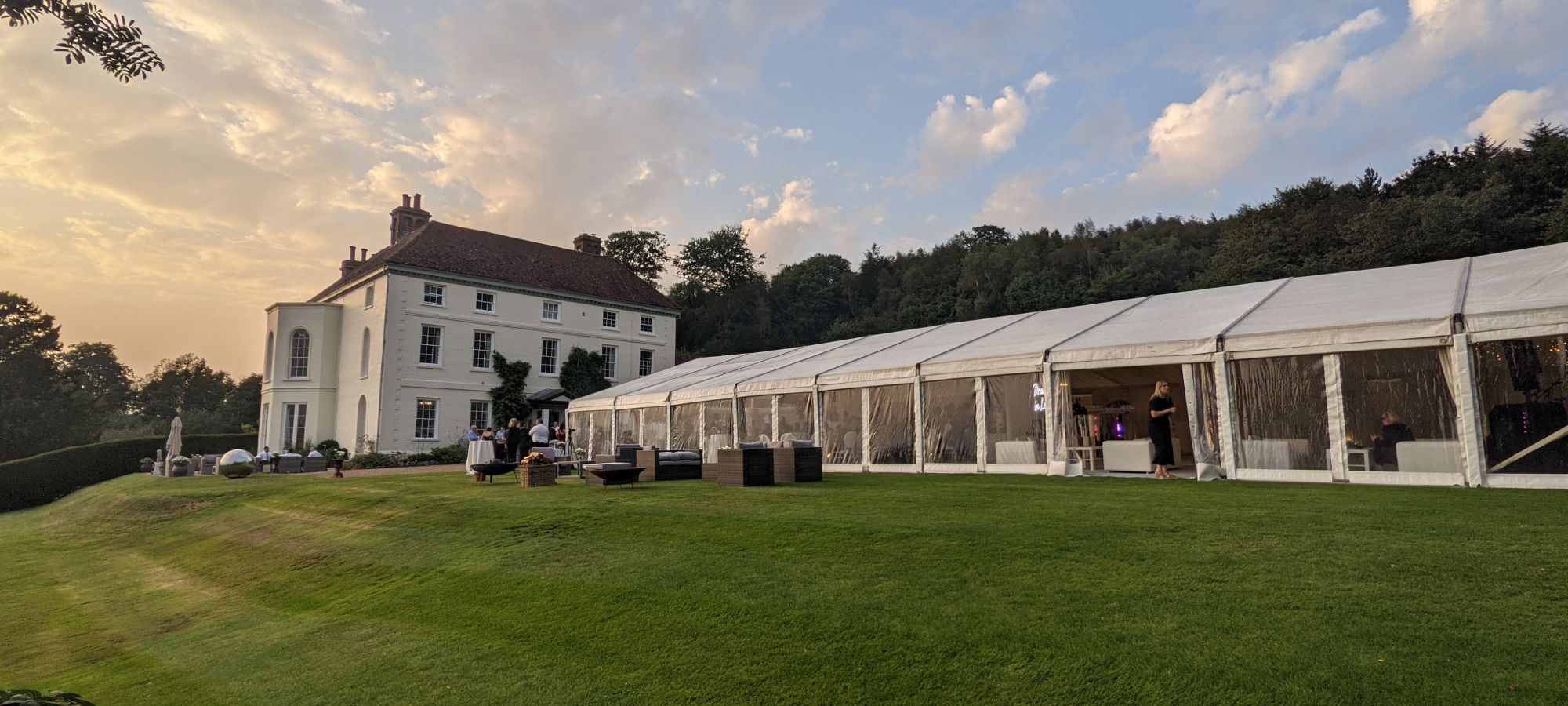 So why does AKA, a wedding band, love a marquee so much?
There are 3 main factors to why we love marquees.
Easy access. AKA has a lot of equipment, it is all really heavy and comes in professional grade flight cases on wheels, and as you can imagine we like to get as close to our performance area as we can so that it is easy to set up. By getting as close as we can, we cause the absolute minimum of disruption to your day. In fact, you probably won't even notice that there is a band setting up at all, and doing this all easily and quickly means that we can be ready for you and your first dance at a moment's notice.
The Sound. Marquees are long, soft, often carpeted, and have high ceilings. This is the best combination of elements for us and our sound system to sound as good as it possibly can. The carpet and canvas absorb the band sound so there is no reflection, meaning that you get the best, purest, and most all-round sound from our PA system. We can also concentrate our sound right to the dance floor, so if you want to go and have a chat with your friends and family by the bar, you can do exactly that, knowing that the party is in full swing on the dance floor and waiting for you to return.
Lighting. Marquees are mainly white, or off-white colour. This gives AKA a blank backdrop to shoot our colour washes, moving heads, and starburst lighting effect on to, giving you the best light show we can offer. With a draped white ceiling the lighting bounces all over the marquee and turns your space into the ultimate evening party experience.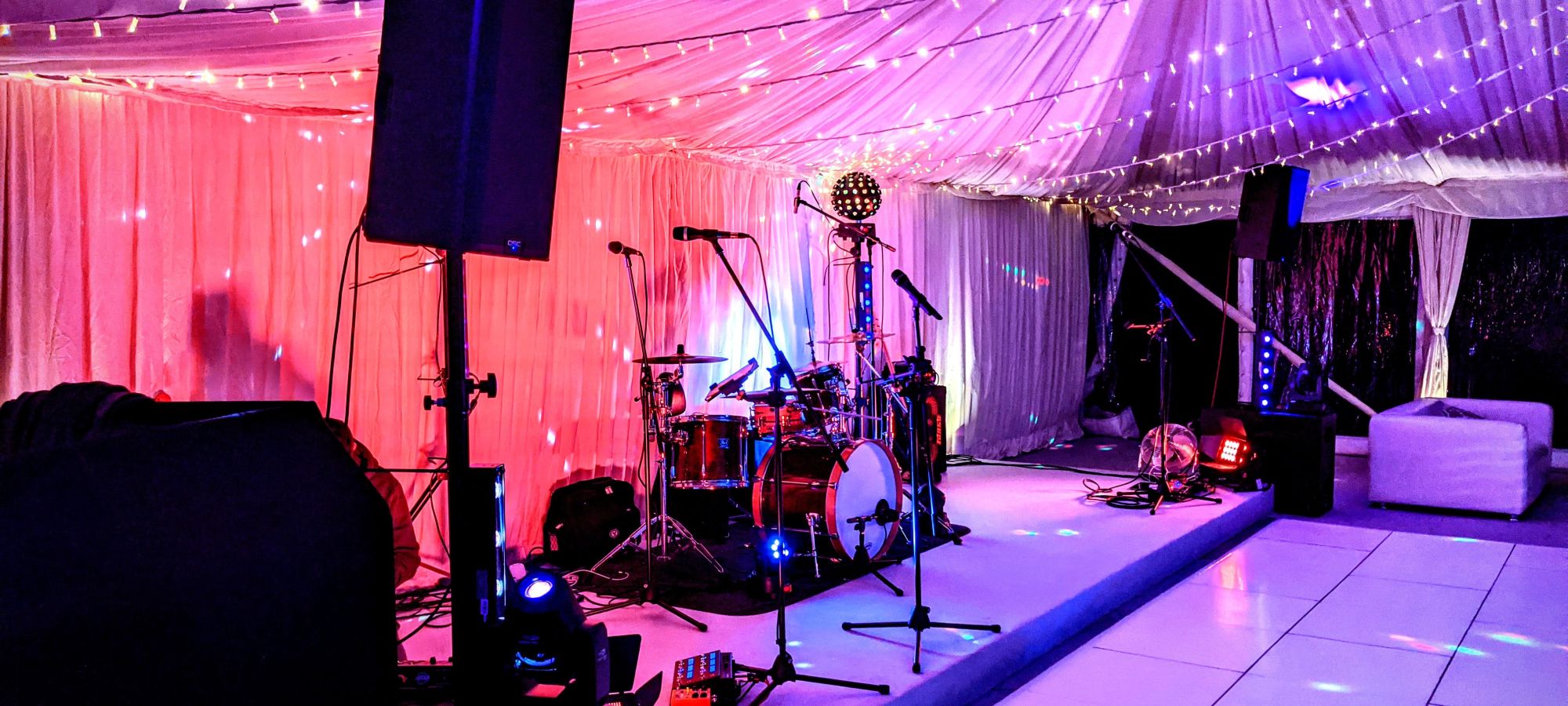 Our wedding marquee top tips
Think about lighting during the wedding breakfast. You probably won't need anything during the summer months until 19:30 ish, but when it gets darker, uplighters or festoon lighitng will really help.
Your ceiling may not be where your guests are concentrating their attention, but this section is just as big as your floor. The best use of this space we have seen is when it has been covered with draped linens, starlight fairy lights, or wrapped in vintage festoon bulbs
Put the bar in the middle. This makes a natural barrier that isn't too big between the dining and eating space and the party space. Having a central bar also means that you don't have to leave the dance floor in the evening to get a drink, keeping your guests on the dance floor, and keeping the party going for longer.
Put a stage in for your band. This makes the banda a real focal point, and gives your performers a level area to play from. Trust us, they will thank you!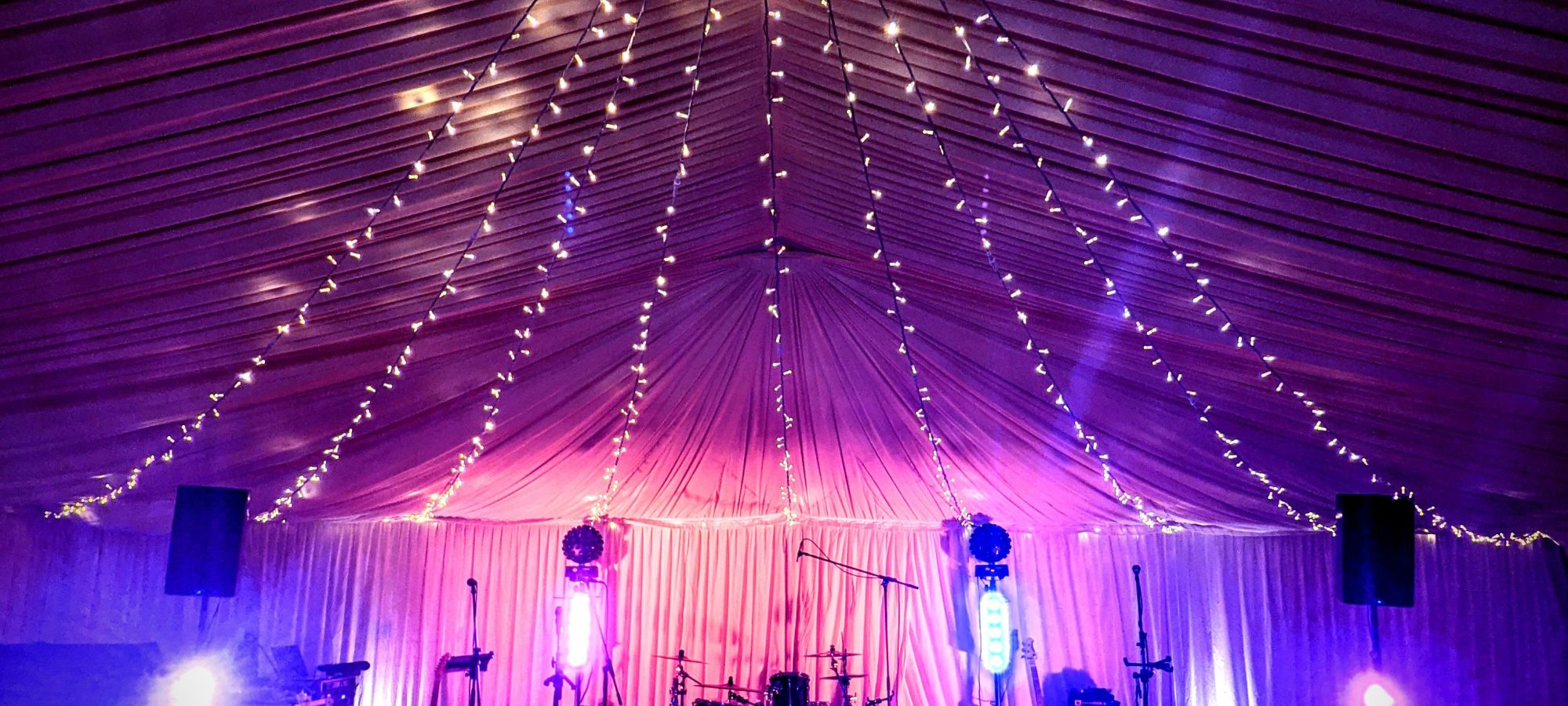 The soundtrack to
your big day