Why You Need A Wedding Band
Why you Need to Book A Wedding Band.
Congratulations! You've found your wedding venue and booked your date. Now it's down to the fun stuff - getting the party started.
When it comes to wedding music and entertainment there are three main options to choose from; a simple playlist, a DJ or a live wedding band. To find out which is the right choice for you, let's have a look at each in more detail.
1 - A Playlist
A curated and personal playlist is great for background music and keeping the ambience alive on the day. At first, creating a playlist might seem like the easiest option, and it definitely is the cheapest. However, putting together a large number of tracks for each part of your day can take up a large amount of your planning time. Not to mention you will need to have a member of the bridal party, or trusted guest, in charge during your wedding, to make sure the correct songs are played at the right time. Finally, while your favourite party songs may get people on the dancefloor in the evening, a live band is far more likely to keep the party going well into the evening.
2 - A Wedding DJ
When people hear the phrase wedding DJ, they often think of cheesy pop music. It's worth noting that most modern DJ's have a far bigger repertoire to choose from, and will happily take requests from your guests to keep people on the dancefloor. Another popular move with couples is to ask for song requests from their guests on the RSVP to their invitation. This way you can pass on your favourite tracks to the DJ ahead of time, so they know what to play. However, with the exception of the moving lights, a DJ is relatively static as they have to be behind the DJ booth in order to do their job, which limits the level of interaction the DJ can have with you and your guests.
3 - A Live Wedding Band
Live wedding bands are full of energy! Not only do they get the party started in the evening, they can also play for your first dance and during cocktail hour - creating the soundtrack to your wedding day. In AKA we like to adapt our set to your guests on the night. We blend as many of our songs together (as a DJ would) to ensure that the music and the atmosphere never stop. Our repertoire is also as extensive as any playlist you could create. From classic disco, to current pop charts and 60's rock and roll - we keep the music flowing while being varied and catering for all. Plus, we're happy to learn any requests you may have to keep your entertainment tailored to you.
Live wedding bands also come with a whole host of extras, that make them stand out from a DJ or playlist. We will perform your first dance song live, creating a magical and intimate moment that you will remember forever. Not only that but we will even record your song for you, so you can keep a copy to listen and dance to at home - adding a little something special to each anniversary.
Wedding bands also have a dedicated person to look after you throughout your booking during the day itself, within AKA this is Matt, the band leader. Matt is your point of contact and is always on the end of the phone or email to guide you through each of the steps, help you plan out your day, and liaise with the venue on your behalf. Just like your venue manager, florist, photographer and caterer, think of your wedding band as part of your team. Our job is to make sure you have the best day, and bringing together a team of people who you can trust and who you know will sort everything is really important.
4 - But what if you want all 3?
With AKA, you can have the perfect blend of live band, DJ and playlist. Like most wedding bands, we have a number of curated playlists to play between our sets. Covering all genres and decades these playlists help to keep the dancefloor full while the band take a quick breather between performances.
We also have a fully manned DJ service that can be added on to any of the band packages. This means if you're really torn between a band and a DJ, AKA is perfect as it can give you the best of both worlds. This is one of our most booked wedding add ons as it helps to add to the fun energy of the band, while also giving your guests complete control over the music through requests.
When it comes to wedding entertainment, nothing will beat the energy and experience of a live band. A group of professional musicians giving you their all on your wedding day is really the only way to see the night through. If you're looking to have a soundtrack on your day, get in touch with AKA today.
Check Out This Video . . .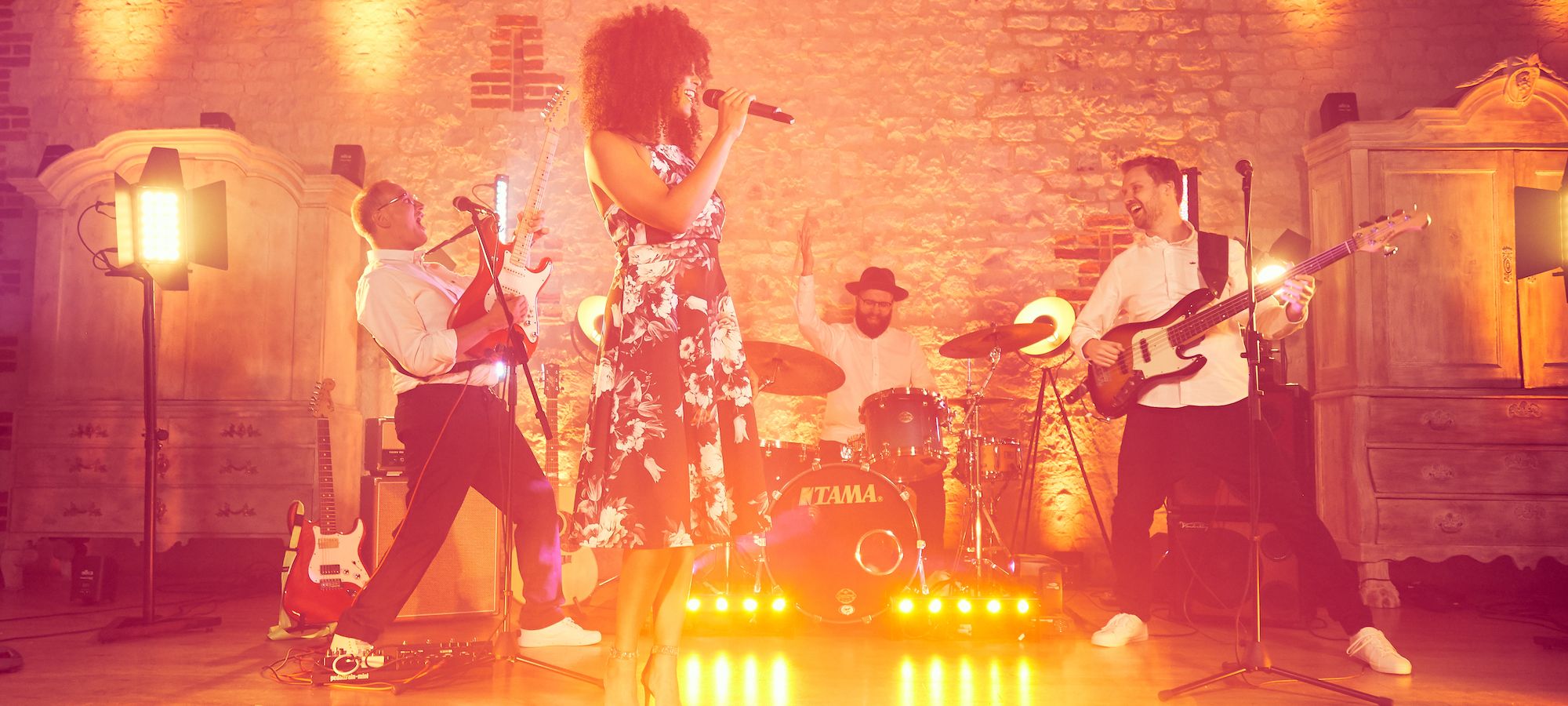 The soundtrack to
your big day