Gate Street Barn in Surrey has a reputation as one of the best rustic barn wedding venues in the South of England, and rightly so. Right from our first wedding at the barn, it has been one of our favourite wedding venues and we have been back time and time again, every year, playing for dozens of happy couples. We have been back to Gate Street barn so many times we are one of their recommended and preferred entertainment suppliers.
Set in the heart of the Surrey Hills, just outside of Guildford and the historic cobbled street, Gate Street Barn is surrounded by fields and not much else. This lends itself to being pretty much the number one wedding barn in the area.
Ceremony music at Gate Street Barn
The main building is where everyone says their I Dos, and our acoustic line-ups fit perfectly into the surroundings. When we have been lucky enough to perform for ceremonies at the barn we set up at the back where we would put the band for the evening party. This ensures that you and your guests can hear all the music and that we won't be photobombing all your wedding pictures. 😀
The acoustic duo and our acoustic trio with double-bass is best suited to the marriage ceremony but if you are wanting something a little different the instrumental guitar duo is also a great option for your processional, register music, and processional. Any of these versions can then be used for your drinks reception in the pheasantry or garden setting.
Drinks reception entertainment at Gate Street Barn
The Pheasantry and Orangery at Gate Street are such great spaces for a wedding reception. We have performed in both and no matter where you set up the band, you can be sure you're making the most of your wedding entertainment. This is one of the reasons that Gate Street Barn works so well for live entertainment, it doesn't matter which area you are using at the time, music fits seamlessly and will fill the venue.
The Evening Party
A band like AKA works brilliantly in the main barn. So how do we turn the barn into a party venue?
We load into the granary while you are still having your wedding breakfast meaning we are ready for the room turn around as soon as possible
Once you have toasted the speeches and the room turn around has begun, we work with the onsite team to clear the tables around where the band set up, and start to set the band equipment.
Once we are set up, we do a short (15 minute) soundcheck to make sure it sounds just right.
Know we are ready to welcome you onto the dance floor for your first dance and start the evening celebrations.

We time all of the above with the venue, your evening guests and the natural flow of the day to make sure that there is minimal disruption to your day. Most of the time you won't even notice that we are there until we call you onto the dance floor for your first dance.

Gate Street Barn has a few neighbours and has a sound limiter built into the barn and dancing area. For AKA this is no problem and we know just how to make sure it won't impact your evening party. We do this by using in-ear monitoring for the band and keeping the stage volume down, which means that we can direct all the music right towards the dance floor. This keeps you happy, us happy and the venue happy and safe in the knowledge that your party music won't be interrupted.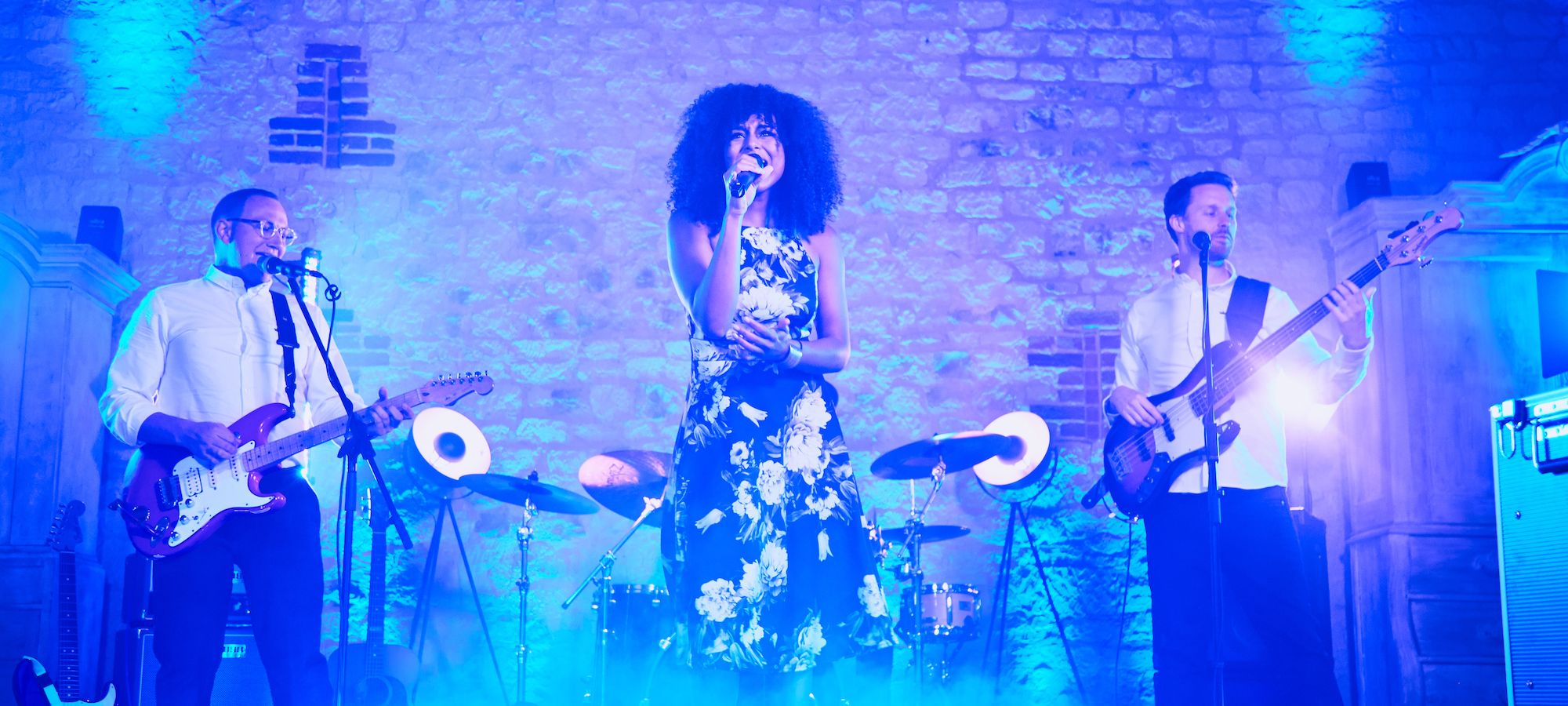 All 3 of our brilliant live music wedding packages can be used at Gate Street Barn and we will work with you to build your perfect wedding playlist. Both the live band and our DJ add-on gives the best results for an awesome evening party and will fill the venue with all the songs you could ever want. The DJ service allows us to take requests from you and your guests and really tailor the music for your wedding party to you. We consult with you before the big day to create a musical framework that we can rely on and then work your on-the-day requests around this to build the best wedding setlist for you. We have 2 top tips when creating your chosen music choices for your wedding day:
Start early! Set up a Spotify playlist or similar and every time you hear a song you would love to have, drop it into the playlist. This will help you know end in the lead up to your wedding day, knowing that one job is already done and can be sent straight over to the band. We guarantee that there is nothing worse than sitting down together and trying to thinking of songs you like.
On your guests' wedding invites and RSVPs, ask them for a "Request for the DJ". this will get them involved right from the get-go and will give you a big list of songs that you can build on.

We know that choosing the right wedding band for your chosen venue can be a tough one, that is why it is important that you pick a band that knows your wedding venue and understand how to make your day truly yours. Check AKA's availability, book in a call with our band leader and get your bespoke quote and let's start planning your live party playlist!
The soundtrack to
your big day