Best UK wedding venues 2023 for live wedding music
Best UK Wedding Venues 2022 For Live wedding music
There are hundreds of wedding venues in the UK, but there are some that are ideal if you want a live wedding band for your wedding entertainment. Here are a few venues to consider.
Plush Manor, Dorchester, Dorset
Tucked away in a picturesque Dorset village, Plush Manor is the perfect venue for weddings. Not only does the manor house provide accommodation for up to 14 people, but there is also a stunning deconsecrated 19th-century church in the house gardens. This is a multi-purpose venue that really comes into its own as a location for your evening celebration. The space where the altar once stood has been converted into a dedicated stage for hosting a live wedding band, with plenty of space for you and your guests to dance the night away. There's even space for a bar. Plush Manor offers both indoor and outdoor locations which are licensed for civil ceremonies, so you can host your entire wedding at one location.
Silchester Farm, Hampshire
Hidden away in the rolling countryside of Hampshire, Silchester Farm is a fantastic venue for a country wedding. The venue has a range of carefully restored buildings, including a 400-year-old oak-threshing barn. Any of these locations could become a performance space for your live wedding band, with plenty of room for dancing the night away. Silchester Farm also has ample outdoor space, including a stunning kitchen garden, with outdoor furniture and log burners included for guests to take a moment to rest their feet. Onsite accommodation for up to 27 people is also available, meaning you can have your entire day at one venue.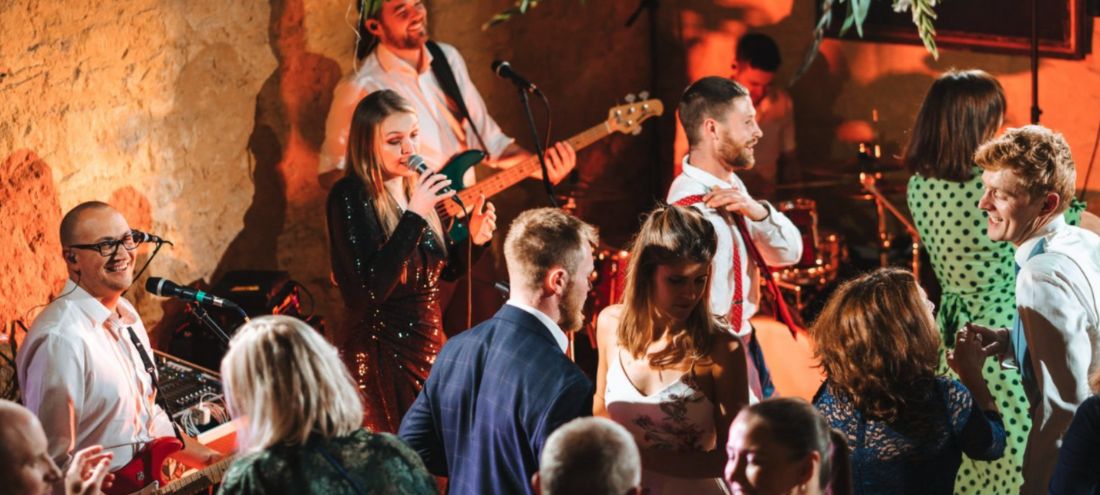 Owlpen Manor is a Cotswolds gem situated in a rolling estate of tranquil woodland and countryside. The venue caters for both civil and religious ceremonies, with a charming church just around the corner. You can choose to have your civil ceremony in the picturesque Tudor manor house or enjoy the surroundings of the Cyder Barn, which dates back to 1446 – it's the oldest licensed wedding barn in Gloucestershire. With its high ceilings and excellent acoustics, the barn also doubles up as a great location for a live wedding band. You can also make use of the beautiful estate gardens
The Stables, White Horse, Southill, Bedfordshire
If you're looking for somewhere with a more intimate look and feel, The Stables just outside Biggleswade is ideal. Located on the grounds of The White Horse country pub in the rolling Bedfordshire countryside, The Stables is a fully kitted-out venue perfect for smaller weddings. Once a stable block, the venue has been carefully restored, retaining many original features, with some modern additions. One-half of the venue has a dedicated stage area for a live wedding band, with plenty of space for dancing. The Stables also has its own bar, so you can find everything in one place, with plenty of outdoor space to enjoy.
The soundtrack to
your big day