Weddings at Rivervale barn are always special. The barn is one of our favourite rustic wedding venues in Hampshire and has so much character, charm, and personal vibe about it. It's one of those wedding venues where you can do exactly what you want with it, and make it truly yours for the day. But if you are here, you probably already know that and are wondering about how live music works at the barn and how you can make the most of entertainment throughout your wedding day at Rivervale Barn.
Let's start at the top and work until the end of the night and the final song of your big day.
The Ceremony
Rivervale Barn has two gorgeous wedding ceremony locations. Firstly, there is the Ceremony Barn with stunning timber beams and then there is The Spinney, the beautiful outdoor wedding venue surrounded by leafy greens and lush gardens. Both are perfect for some light background music and we suggest one of AKA's acoustic line ups or our Acoustic Guitar Duo. You can have amplified music inside and acoustic music outside, so our acoustic vibe will work brilliantly no matter where you say I Do!
The Drinks Reception
Rivervale Barn has some of the best garden and outdoor spaces for wedding pictures that we have ever seen. Make the most of these when you are there, but don't leave your guests without a bit of entertainment. Take your chosen acoustic performers with you from your ceremony into the drinks reception and have them playing for your guests whilst you are off taking those pictures that will last a lifetime. We find that the drinks reception can be one of the most underrated parts of the wedding day, and it is one of the parts of the wedding celebration that we love being a part of.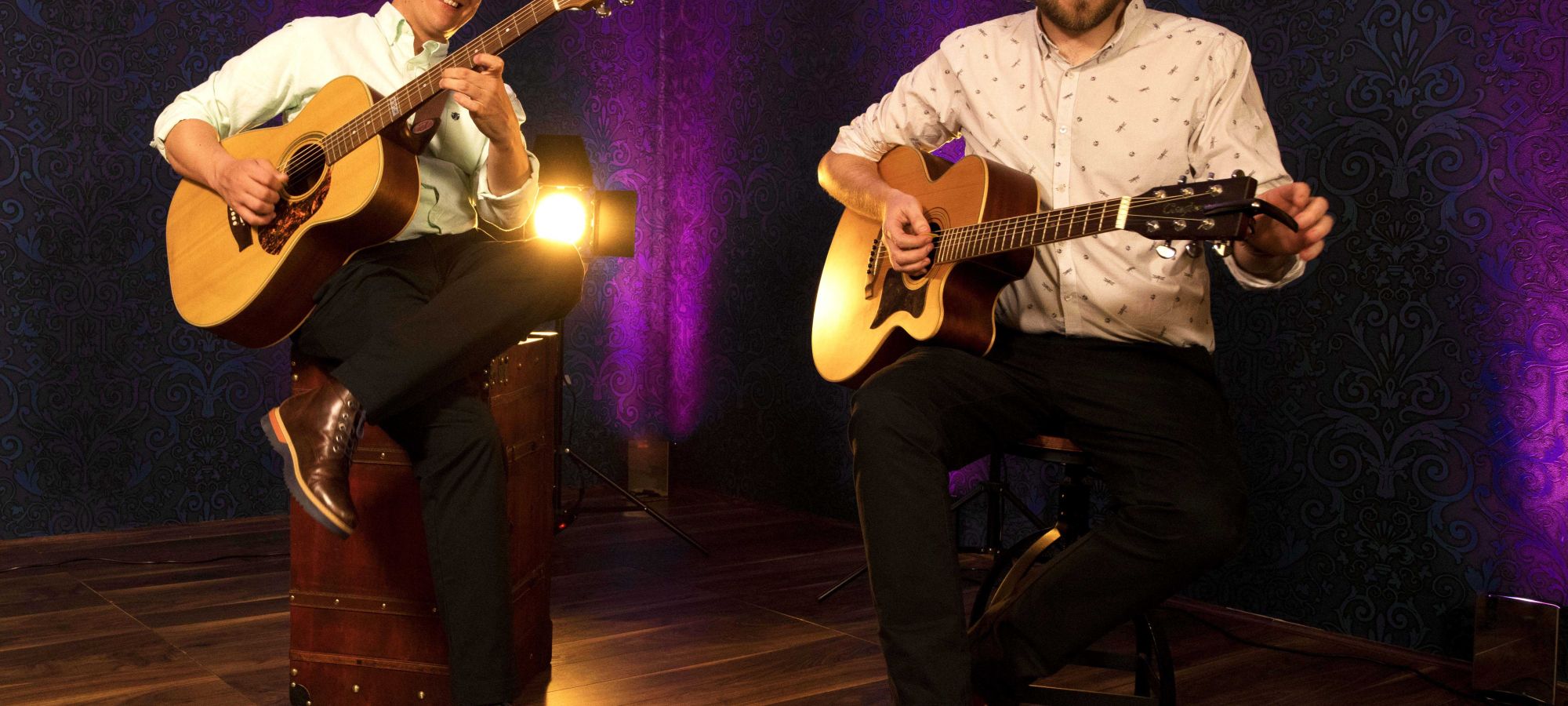 The Evening Party
Let's be honest, this is why we are here and AKA knows Rivervale Barn well. We are based just down the road from the venue and have been many couple's live party band in the reception barn. The reception barn is the first part of the barn that your guests will see as they enter and is the best place for the band in the evening. The main reason is that whilst you are happy eating in the Dining Barn, the band can be setting up and transforming the space into a party atmosphere. It is at this time that we work alongside other production suppliers who can put down a dance floor ready for those eager dancing shoes. The team at Rivervale have this down to a T and will close off the section with a long draped curtain so that your guests will barely notice we are there and setting up for you.

You may know already that Rivervale has a sound limiter. This may sound scary, but it isn't, well not for us anyway. For the best party band at Rivervale Barn, we recommend AKA's 4 piece band. This is the best band size and line up to make sure you get all the songs you want to dance to, sing along with and remember for decades to come, and also will works in the space with the sound guidelines. The limiter at Rivervale Barn is set to 90 decibels. This is more than enough for a band of AKA's size and we go one step further than other bands to maximise your experience without compromising the band.
To make sure that you get the best possible party, we use specialist in-ear equipment for all our performers so that there are no speakers on stage, and all the band's sound is directed at you and the dance floor. This helps to make sure that we keep under the limiters 90 decibel rating, without wasting precious live sound. This keeps you happy, us happy and the venue happy.
Let's talk about making the most from your evening party......
AKA will play for 2 hours which you can split as either 2 x 60-minute sets, or 3 x 40-minute sets depending on how you would like your evening to run. But what do you do between the band's performances? AKA will come fully prepared with playlists that are designed to keep the dance floor alive, but we can't adjust this on the night. Instead, we suggest our fully manned DJ service to fill any gap in the band's live sets. This option works just like a full DJ, able to take requests from you and your guests and changing the songs to suit the people boogying at the time, but takes up no extra space! It even comes with a full DJ booth and some additional party lighting.
As for choosing the songs your want to hear, be sure to take a look through AKA's huge repertoire of songs and get in touch with us if there is one you would love to hear but can't see on the list. We'll make sure it is there for you, along with all the other party anthems that a good wedding can't do without!
Rivervale Barn is one of those Hampshire wedding venues that is timeless, completely yours for the day, and one that AKA works brilliantly in. Whether you are looking for some background music for your ceremony and drinks reception, a live band for your evening party, or all of the above to create the soundtrack to your wedding day, AKA can cover it all.
Watch AKA playing, check out why people love us, read more of our wedding blogs and check our availability for your wedding date!
The soundtrack to
your big day